Name: Grammarly
Website: http://grammarly.com
Price: Free for 7 days then $29.99 a month
How I Rank It: 95 out of 100
I want to share my personal experience with Grammarly since I started using it last month and I found it very useful in helping me to proof read my blog posts.
Grammarly is an online grammar checker that offers real time and accurate feedback on your writing. I love it!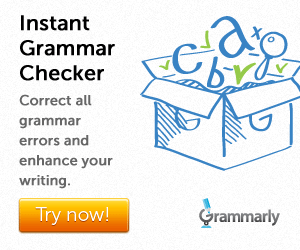 It is really easy to use. I simply copy and paste my article into The Online Grammar Checker Box on the Grammarly website and it quickly proof reads my work.
I love that all of my grammar errors are picked up right away. But also Grammarly helps to pick up miss use of words that have multiple spellings. It also checks for run on sentences and reminds me to add punctuation.
I also realized that I have developed a bad habit with my writing. I discovered that sometimes overuse the same word when writing an article. This is something that can be annoying to my readers. I like that Grammarly picks up on problem and suggests a synonym that I can use.
Does Grammarly work? Yes! I love it. I have been using Grammarly to check over some of my previous blog posts and have realized that I had quite a few errors that I never noticed before as well as some misuse of punctuation. I love that Grammarly is easy to use. Try it out for yourself now.
I really see a lot of value in Grammarly for bloggers and affiliate marketers. But it would also be great for students or writers. It would certainly help with getting better grades in school.
There is also a plagiarism checker. Now this is something that I will never use as I would never use someone else's work. I honestly don't see why anyone would use this, but I do see how it could be used as an easy way to see if your content has been used elsewhere on the internet.
In conclusion, I think Grammarly online grammar checker is a great value to affiliate marketers. And since it is used for business purposes, it is a tax write off! Which is a huge plus.
Best,
I'm curious if anyone else has used Grammarly? What are your thoughts on it?
Please follow and like us: